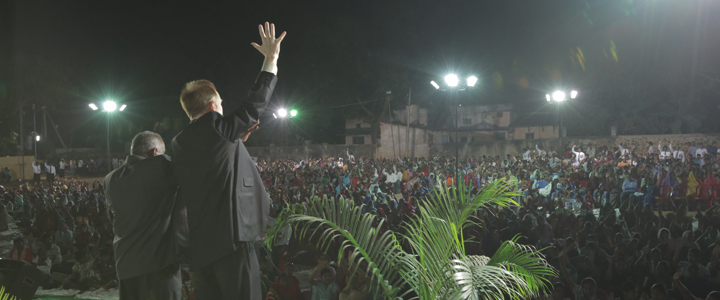 Building More Churches in India
I want to thank you for the support you provided during It Is Written's recent trip to India. Your help enabled us to share the love of Jesus Christ with more than 5,000 people from over 25 villages! Many of these individuals traveled more than an hour—in packed flatbed trucks—to hear the Word of God.
During those nine days, we baptized 3,000 people—many of whom recently had their sight restored through our Eyes for India project! They now proudly wear their dark sunglasses as a symbol of their faith.
And thank you for your help in the building of churches in India. As of today, 10 of the 25 churches have already been built, thus providing a place of worship for those who were recently baptized! I had the privilege of being present at the dedication ceremony for two of these newly-built churches, and they are already making a difference in people's lives.
We are committed to our goal of building an additional 15 churches for $6,000 each. Furthermore, in order to grow and care for these churches, we would like to sponsor Bible workers for all 25 churches over the next three years at the cost of $75 per worker per month.
The Holy Spirit is hard at work in India. Amazing and miraculous things are happening, and we want to do all we can to share the Gospel with everyone. Now you have the opportunity to sponsor a church in the remaining villages, and any gift will help! Or perhaps you'd like to support a Bible worker for $75 per month as they prepare people in these villages for the soon return of Jesus. Your gift will make an eternal difference!
Your brother in ministry,
Pastor John Bradshaw