Pastor Royce Carlton Williams Passes to His Rest
To watch the recorded Celebration of Life service for Royce Williams, click here. If you would like to view a copy of the printed program, you may download it here.
About Pastor Royce Carlton Williams: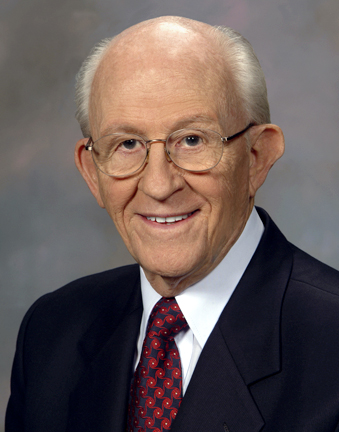 Pastor Royce Carlton Williams, a longtime evangelist who throughout his career served as manager, global evangelism coordinator, director of field services, and special projects coordinator for the It Is Written television ministry, and also worked extensively in the Far Eastern Division, died unexpectedly May 28, 2013, from complications of pneumonia. He was 85.
Evangelism and soul-winning were his passions, and he was looked upon as a spiritual giant by those who knew him. "What else can I do?" he once said. "I am God's man for life!"
Pastor Williams worked for It Is Written full-time from 1976 to 2007, which marked his 56th year of working for the church. Although he retired Dec. 31, 2007, he continued working on a nearly full-time basis until shortly before he entered the hospital in early May.
While at It Is Written, he assisted Speaker/Directors George Vandeman, Mark Finley, Shawn Boonstra and John Bradshaw. He traveled extensively around the world—coordinating It Is Written evangelistic meetings and special projects, and holding evangelistic series of his own.
Pastor Williams mentioned during a 2007 interview with then-North American Division President Don Schneider that he had crossed the Atlantic 106 times and the Pacific 84 times, had flown on 91 different airlines and had visited 64 countries. He traveled with Pastor Finley on at least 22 overseas evangelistic trips, and held training seminars in every non-regional conference in the United States, and most of Canada.
In 2006, Pastor Williams traveled to Africa to deliver solar-powered "Godpod" Bibles to people living in the Kalahari Desert. One year later, he accompanied Pastor Boonstra on It Is Written's trip to the Arctic, where—partly by dogsled—they delivered Inuktitut-language Bibles to Inuit people living in remote areas.
Earlier this year, he joined Pastor Bradshaw for a major evangelistic series in Central America. Said Pastor Bradshaw, "It was truly inspirational to see him each night as he returned from his meetings energized—glowing with the joy he received from preaching the Word of God and seeing people respond to the call of Jesus."
Early Years
Pastor Williams was born on a farm northeast of Greeley, Colorado, on February 15, 1928, the youngest of four brothers—all delivered in the same farmhouse by a country doctor. His father had traveled from Missouri to Colorado at the age of two in a covered wagon pulled by mules. When Pastor Williams was four, his family moved to Nebraska, where he grew up on a cattle ranch.
In 1946, Pastor Williams was drafted into the Navy, and was discharged a little more than six months later when World War II ended. But that was enough for him to qualify for the GI Bill, enabling him to attend college. In 1947, after a few months at Union College, and after falling in love with his soon-to-be wife, Frances, Pastor Williams decided to become a minister.
After graduating from Union College in 1951, Pastor Williams worked as a pastor in Missouri for two years before accepting a call to the Philippines. During the next 23 years, he served as a mission director, union evangelist and Far Eastern Division ministerial secretary, before returning to the United States to work with It Is Written.
Pastor Williams said that the most thrilling moment of his ministry was the night in 1953 when he sat in the home of Mr. and Mrs. Roy McKee as they responded to his appeal for baptism. They were the first people who came to Christ as a result of his ministry. He liked to quote a statement by Charles H. Spurgeon that stated well the driving force in his life:
"Never did I know perfect, overflowing, unutterable happiness…till I first heard of one who had sought and found the Savior through my means. No young mother ever rejoiced so much over her first-born child, no warrior was so exultant over a hard-won victory." (The Soul Winner, 1869)
Pastor Williams is survived by Frances, his wife of 66 years; his children Marlin, Sheryl, Terry and Darlene; 10 grandchildren and two great-grandchildren.
In lieu of flowers, the family asks that donations be made to It Is Written's Eyes for India project (1-800-479-9056 or www.itiswritten.com/eyesforindia).
June 6 Update:
CELEBRATION OF LIFE SERVICE FOR PASTOR ROYCE WILLIAMS
The celebration of life service for Pastor Royce Carlton Williams, who passed to his rest on May 28, will take place on Saturday, June 22, at 3 p.m. in the Simi Valley Seventh-day Adventist Church, located at 1636 Sinaloa Rd. in Simi Valley, Calif. This celebration will honor a much-loved man who dedicated his life to sharing the love of Christ with others.
The service will include live and recorded messages from many church leaders and current and past It Is Written leadership, as well as music by It Is Written musicians.
Following the service, light refreshments will be provided in Schrillo Auditorium, adjacent to the church. In lieu of flowers, the family asks that donations be made to It Is Written's Eyes for India project (1-800-479-9056 or www.itiswritten.com/eyesforindia).
For those who will be unable to attend, It Is Written will post a video online at www.itiswritten.com within a few days of the service.
To view Pastor Williams' obituary, please visit www.itiswritten.com/roycewilliams.