Mission Trips / India 2021 Mission Trip
India Mission Trip
Dates
How many
Location
Cost
TBD-
TBD, 2021
20+ people
Andhra Pradesh, India
   
$1500/person
+airfare
Overview
Over the last 3 months, we have been re-opening 26 previously closed churches in South East Andhra Section - also known as SEAS (a "Section" is similar to what we refer to as a "Conference"). We've trained 13 Bible workers and they are currently in the villages meeting people and working hard to restore the church family. We have also been cleaning and repairing the churches and cleaning up the church yards. We've conducted VBS programs and held literacy training in half of these churches. When the foreigners (such as yourself) come in February, they will be conducting revival meetings. During that same time, we will also provide free eye surgery for villagers suffering from cataracts. During this trip, our team will be housed at Fjarley Adventist Academy in Rajanpalli. We will eat all our meals on the campus.
Persons coming on this trip will leave the USA on February 2nd, arriving into Hyderabad India on the night of the 3rd/early morning of the 4th. We will travel to Rajanpalli to begin our meetings. Meetings will occur each evening. Day hours will be spent doing sermon prep, resting, and visitation in the villages (Indian people LOVE to have you visit their home). Our meetings will end on February 15th. We will travel to Hyderabad late that afternoon and fly back home during the early hours of February 16th. You will arrive home that same day.
Arrival

TBD, 2021
Departure

TBD, 2021
Travel Information
Volunteers are responsible for purchasing their own airline tickets to and from Hyderabad, India. All dates exclude air travel time and any additional excursions taken. You may need to purchase airline tickets a day or two before arrival date due to the time difference. If you choose to arrive earlier than the arrival date or depart after the departure date mentioned above, you will be responsible for payment of any additional nights at the hotel. It Is Written representatives will meet all volunteers upon arrival at the airport. Once your airline ticket has been purchased, email a copy of your itinerary to Maria Rayburn at [email protected].
Travel Resources
Butler Travel:
Nathanael Martin
P.O. Box 40
Grand Ronde, OR 97347
503-879-5005
[email protected]
www.butlertravel.com
Kayak:
kayak.com
Accommodation Details
To be announced.
Excursions
To be announced. (All excursions, if any, will be an additional cost.)
---
India Mission Trip

Facts & Figures

Population

1.3 billion (July 2018 est.)

Religion

Hinduism 79.8%, Islam 14.2%

Electricity/Voltage/Plug Type(s)

230 V / 50 Hz / plug type(s): C, D, M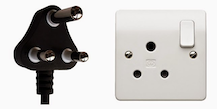 Time Difference
UTC+5.5 (10.5 hours ahead of Washington, DC, during Standard Time)
Potable Water
Opt for bottled water
---
Entry Requirements
If you are a U.S. citizen, you must have a passport valid for at least 6 months from intended date of return to the USA and an India Visa. You may opt to apply for an E-Visa which you apply for prior to your travel to India and which is stamped into your passport upon arrival. OR, you may opt to apply for a 1 year – 10 year visa which you would need to apply for immediately. Please contact Bobbie Jo for assistance in getting either of these visas.
If you are not a U.S. citizen, click on this link for visa requirements.
---
Registration Information
Registration Forms and Deposit Due
($500)
Final Payment Due
($1000)
Payment Options

Pay online


Over the phone
Call Maria Rayburn to make a payment by debit/credit card at 423-362-5846

Mail a check to
It Is Written, Attn: , P.O. Box 6, Chattanooga, TN, 37401