Welcome to the It Is Written Online Bible Study Series.
Discover the Bible in a new way via the Online Discover Bible Guides sponsored by the It Is Written international television program. These 26 Bible Guides open the Bible in a clear and concise way. You will learn to understand the Bible and enjoy reading it for the messages it contains to improve your life. This series offered at no charge, and if you desire, you can request several free booklets as you progress through these Bible guides.
Visit the welcome page for more information, and begin the first issue right now!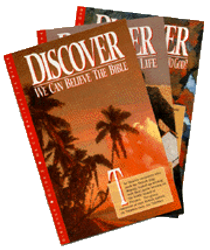 Returning students login here.
Tell someone else about this free online series.
"Enjoyable, Enlighting, Enriching." – Renardo G.
"I have always had a problem understanding the Bible, but it has never been placed before me as you have done in Lesson #2. I thank God for this Bible study tool and for the fact that I found this website." – Cassandra B.
"I really want to study Bible. Lesson Two shows me Bible can change human being's life including me." – Jangho L.
"Overall I live a pretty happy life, but I feel there is always room for improvement. There are issues with which I am struggling and I believe through my Bible studies I can resolve those issues." – Amy V.
"I feel blessed to have stumbled onto the Discover course. To me it is a very concise study of the bible brought to todays living standards. It covers a lot of ground but hits the proper high spots so as to give a well rounded picture of todays needs as far as bible study and it's influence on salvation are concerned." – Larry B.